Contracts
Falcon Logic is a Small Business Administration (SBA) certified 8(a) woman minority owned small disadvantaged business. Falcon Logic can receive sole-source prime contracts, up to a ceiling of $4 million for services, as an 8(a) firm. Contracts can be fully executed within two weeks of receiving a requirement, significantly reducing the procurement burden for our customers.
Federal Tax ID (EIN):
27-0622249
CAGE Code:
5S5E6
DUNS Number:
832378249
GSA IT Schedule 70

Contract Number:
47QTCA19D0063
Special Item:
#132-51
IT Professional Services
What Is GSA Federal Supply Schedule 70?
The U.S. General Services Administration (GSA) Federal Supply Schedule (FSS) IT Schedule 70 is an indefinite delivery/indefinite quantity (IDIQ) Multiple Award Schedule (MAS) that assists customers acquire IT professional services via a streamlined procurement process. Falcon Logic scored 96% out of 100 in Dun & Bradstreet (D&B) Open Ratings Past Performance Evaluation (PPE).
What Can We Do For You?
We offer a range of labor categories and competitive labor rates that have been negotiated with and approved by GSA for use Government-wide. Under the SIN 132-51 Information Technology (IT) Professional Services, Falcon Logic will provide consulting services in the areas of:
Enterprise Architecture
Business Analysis
Software Engineering
Software Evaluation and Testing
Program and Project Management
Database Design and Modeling
Systems Engineering and Integration
Other IT-Related Services
To learn more about the GSA IT Schedule 70, click here
MORE >
SBA Certified 8(a)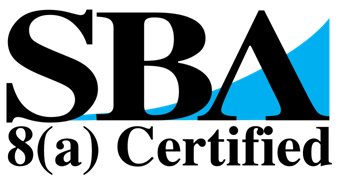 Falcon Logic LLC is a SBA certified 8(a) small business.
SBA 8(a) Benefits
As an 8(a) certified business, federal agencies can contract directly with Falcon Logic on contracts up to a ceiling of $4 million.
Because of our 8(a) status, Falcon Logic can facilitate awards in a relatively short timeframe, eliminating time otherwise spent on RFP development, and waiting for and reviewing contractor responses.
Our status helps partnering agencies fulfill their commitment to teaming with small businesses.
6 steps to establish an 8(a) sole source contract with Falcon Logic in as little as 2 weeks:
The Govt Program Manager develops a Statement of Work
The Govt Program Manager chooses to sole source to Falcon Logic and coordinates with the Agency Contracting Officer
The Agency Contracting Officer submits a Proposed Project Worksheet to SBA
SBA approves
The Agency Contracting Officer and Falcon Logic negotiate and plan the project scope
The sole source contract is awarded to Falcon Logic
MORE >